Webber Functional Communication Photo Lotto at School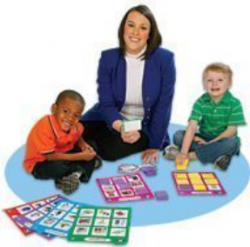 Abstract
Teach children with limited vocabulary about the people, places, and things found in 12 common areas of your school with Webber Functional Communication Photo Lotto.

Functional Communication Photo Lotto is particularly helpful for non-verbal and language-delayed students. Children use the 432 game cards to answer receptive and expressive questions about specific topics while filling up spaces on one of the 48 double-sided game boards.

Help students learn new vocabulary and improve their comprehension by having them match the photos on the cards to the photos on the Communication Boards or ask them, "Point to _______."

Then increase your students' expressive skills by having them answer "WH," fill-in-the blank, and comparison questions, as well as identify objects.
Biblio Notes
Webber Functional Communication Photo Lotto at School includes:

48 double-sided Communication Boards (9″ x 11″) covering 12 Topic Areas; eight different boards per topic
432 color-coded Question Cards-216 Receptive (2″x2″) and 216 Expressive (4″x3″)
40 foam Lotto Squares
Instruction booklet with games ideas