Basic Concepts Chipper Chat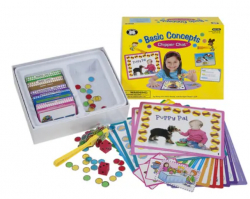 Abstract
Basic Concepts Chipper Chat is a fun and motivating magnetic chip game designed to help students learn and use basic concepts both receptively and expressively in five categories: Qualitative, Quantitative, Social-Emotional, Spatial, and Temporal.

There are 81 concept pairs (Hot/Cold) and concept-related words (First, Second, Third). The student listens to the prompts and identifies the concept word receptively by pointing to an illustrated picture of the concept on the front of the card. The student identifies the concept word expressively as the teacher/therapist points to a picture and reads an incomplete prompt—for example, "This drink is hot. This drink is _____." Student answers, "Cold." The concepts presented in this game align to Common Core State Standards.

Basic Concepts Chipper Chat includes ten sets of four open-ended game boards (40 game boards total). There are 33–78 cards in each category (three cards per concept pair for 243 total cards). Three prompt cards per pair illustrate and use the concepts in different contexts.
Biblio Notes
Basic Concepts Chipper Chat

40 open-ended game boards (8½" x 11") (20 double-sided boards)
243 color-coded concept prompt cards (3¼" x 4½")
Magnetic wand (7½" x 1")
100 magnetic chips (¾")
Foam die (1½")
Instruction booklet with game ideas
Sturdy storage box